So, Tuesday night I arrived late to teach at the Sri Sri Radha Krishna Temple in Spanish Fork (map).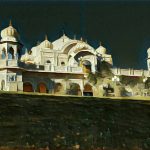 If you know me, then you know that being late is a form of stealing and is one of my cardinal rules for class: No Stealing. What was so important that I felt it was worth arriving late? As a side note, I want to thank Judy again for stepping up to lead the class until I arrived.
Over the years that I've taught here, many have people have asked if I would consider teaching classes in Salt Lake County. I've always had to say no because I no place available to teach. Tuesday night saw that changed. What does that mean exactly?
Beginning tomorrow, December 1st, I will teach Amrit Yoga Level I at the SLC Krishna Yoga Center (map) every Friday at 6:15 pm. The class is donation* based with part of each donation going to the Krishna Yoga Center and part covering my time and travel.
My friends, especially those of you in the Salt Lake area, please join me tomorrow and every Friday for some Amrit Yoga. Not sure what Amrit Yoga is or why you would want to try it? Just take a quick look at the picture at the top of this post. Each week on Tuesday nights (starting at 6:45 pm) that is what you'll find. Join me tomorrow and discover for yourself what the group in Spanish Fork already knows.
Jai Bhagwan
*Minimum suggested donation is $7.00
Photo:
The Painted Krishna Temple & Spanish Fork Yogis: Ramdas